I am not even sure where to start since I have not done a blog entry since April. So, I guess I'll just jump in. As many of you know, on April 29th, my oldest daughter
Ellie
was diagnosed with an inoperable tumor in her brainstem. You can imagine the devastation Pat and I felt after receiving this news about our precious girl, our fist baby. Both of us literally fell to our knees weeping and clutching one another. Never, ever, did we think we would be facing cancer; especially with one of children. Since that day, much has happened to me mentally, physically and certainly spiritually. I have discovered things about myself that I never knew, made friends that I know will last a lifetime and been witness to the amazing works of God through His people. I have never been this close to God; even though I wish this was not happening with
Ellie
, I feel an overwhelming sense of peace because I know how much He loves me. He'll never let me go.
Ellie
is doing wonderful right now. Her determination and spunkiness brings joy to my heart and I am so proud of how she has handled everything she has to go through.She started kindergarten and loves it. I would write more about everything we have been doing with her treatments, but I would like to keep this blog as my creative place. Most of you who know me also know that you can follow
Ellie
at her own website. I have also added her link on the sidebar. I've added a couple pictures of Ellie from the first day of school.
My middle child, Desirae, started preschool this year. She still seems so little to be going to a "class", but she absolutely loves it and really likes the idea that she gets to go to school like her big sister. That's her in the red dress on the first day of preschool.
Since my last post in April, Pat and I also had a baby boy. Colson Patrick was born on May 27th via C-section and has provided us with hope, laughter and sweetness. He is a gentle reminder of just how precious life truly is.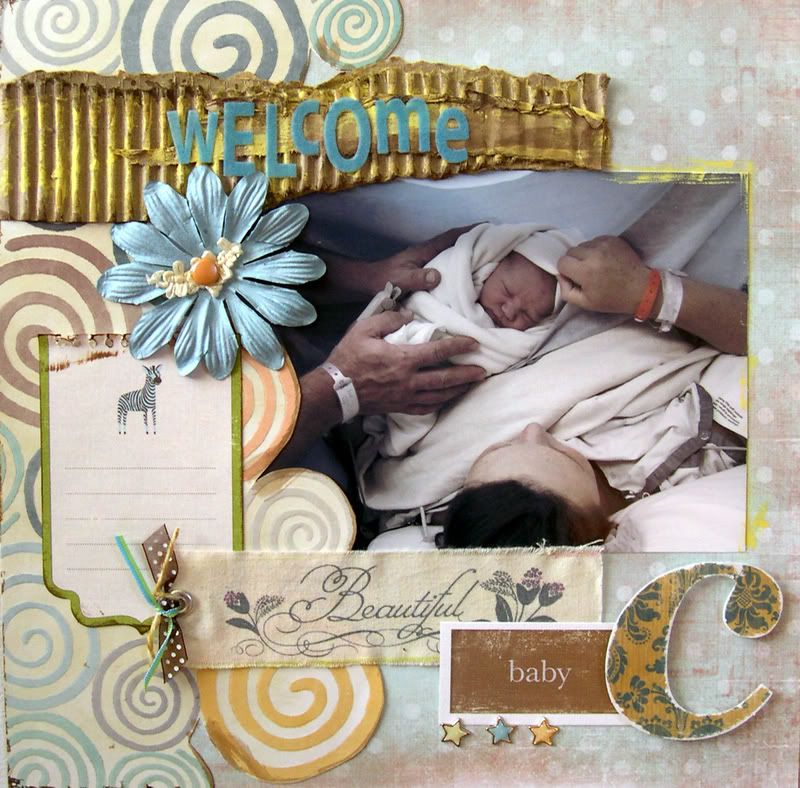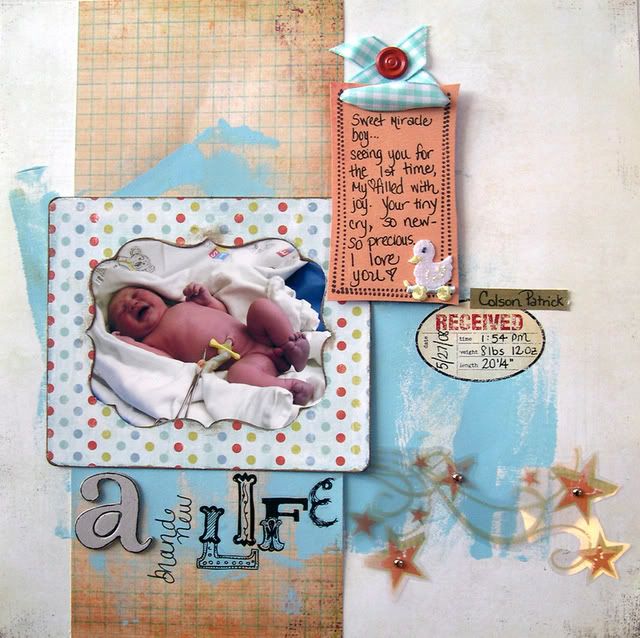 With all that has been happening, my papercrafting time has been pretty limited. But I did get the chance to go away on a scrappy weekend in August and managed to create a few layouts. Cole provides a fun new avenue for me since I have never scrapped little boy pages before! The two layouts that I have uploaded are of his sweetness as he was brought into this world. The third layout is a picture that my good friend
Dawn
took of Ellie in 2006 when she was 3 years old. I finally got around to scrapping it! And the final layout is of Desi in all her cuteness. This one was actually done as part of my design team work for
Making Memories For You
. Unfortunately, I had to leave the design team due to what was happening with Ellie. I am excited to get back into doing some design work for the
Scrapdragons
challenge blog. Gabi and Laura have some great challenges planned for the remainder of the year so be sure to stop over to
Scrapdragons
and check it out! As I sign off for tonight, I want to take a moment to thanks all of you for your incredible kindness, words of encouragement, gifts and prayer. The scrapbooking community has reached out to me in a way I never even imagined and I am so fortunate to be part of such a caring group of crafters. Please continue to pray for Ellie and my family - God grants miracles every day; why not one for Ellie? Blessings to you all ~ Niki